Thanks for clicking ...
Here's how we can help you
Is your copy lacking? Sales in a slump?
Good copywriting is a rare, almost magical talent - and very few possess it.
Many people think, "I can write, therefore I can write copy."
But a quick glance online or at the emails you get quickly shows you why most emails don't get replies.
And why most websites, sales pages and sales letters don't sell.
In fact most only keep visitors for fleeting seconds - not long enough to sell anything.
Want to get in touch, not read more? Just fill in this short form:
Yet just one word changed in an email can boost response as much as 50%. Few copywriters really know what such words are. Yet many claim they can write copy.
And the top copywriters - who do know those magic words - charge like the U.S. Cavalry.
- we're talking $50,000 and more for a project.
So ...
How can you sell more without paying through the nose for top copywriters?
Here's your answer:
No matter what you sell ...
... whether it's simple or fiendishly complicated
... how much it costs ... where you are ... who and where your customers are ... how you sell it ...
... we'll help you get more customers, keep them for longer and sell more to them.
Here's just some of the clients we've done this for:
| Client's name | Their Product / Service | Where they're based | Their market |
| --- | --- | --- | --- |
| Age UK | Lottery, car & home insurance, funeral plans | England | United Kingdom |
| GLL / Better | Leisure Centres | England | United Kingdom |
| Ken Duncan | Photography workshops | Australia | Worldwide |
| Majestic Wine | Wine, beer and spirits | England | United Kingdom |
| Stroll | Language courses | America | Worldwide |
| ProActive | Print & design | England | United Kingdom |
| Hydrex | Anti-fouling coating for ships' hulls | Belgium | Worldwide |
| Brown and Hudson | Bespoke holidays for high net worth individuals | England | Worldwide |
| Clicks & Clients | Website optimisation | America | America |
| Nuance | Productivity software | England | Europe |
| Pact IT | Infrastructure and VOIP | Australia | Australia |
| Concern Worldwide | Charity | Republic of Ireland | Republic of Ireland |
| Optegra | Eye healthcare and surgery | England | United Kingdom |
| AES International | Financial advice | England | Worldwide |
| Naked Wines | Wine | England, America and Australia | United Kingdom, America and Australia |
| Spark9 | Staff planner software | England | United Kingdom |
| Tarsan Apparel | Gents clothing | Canada | Canada |
| SPUC | Charity | England | United Kingdom |
| Centurian Guards Ltd | Security for ultra high net worth individuals | England | Worldwide |
| BENS Consulting | Chemical regulatory requirements | Slovenia | Europe |
| International Theatre & Music | Musicals | England | Worldwide |
| Braxton-Bragg | Stone polishing pads | America | America |
| Catherine Tough Textiles | Knitware | England | Worldwide |
| Association of Accounting Technicians (AAT) | Accounting Qualifications | England | United Kingdom |
| MIB Data | B2B data | England | Worldwide |
| Chase de Vere | Financial advice | England | United Kingdom |
| Petplan | Pet insurance | America | America |
| Milligan & Jessop | Fitted kitchens | England | United Kingdom |
| Beyond Dracula | Romanian Holidays | Romania | Worldwide |
| Apsley Tailors | Bespoke suits and shirts | England | Worldwide |
| Orange Money Exbob | Business loans | Israel | Worldwide |
| Josef Rakich Fitness | Online personal training | New Zealand | Worldwide |
| Godiva | Luxury chocolates | England | United Kingdom |
| F&C Asset Management | ISA | England | United Kingdom |
| 31Dover | Spirits, wine & beer | England | United Kingdom |
Read enough and want to get in touch right now? Just fill in this short form:
And here's a couple of examples of our work.
This letter gave Hargreaves Lansdown
the highest response they had ever received
: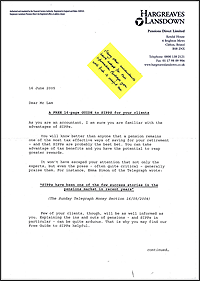 Click see a full size version (opens in a new tab).
This long, long letter is part of a campaign we created for Lexis Nexis. They'd never tried direct mail before.
They couldn't believe the results.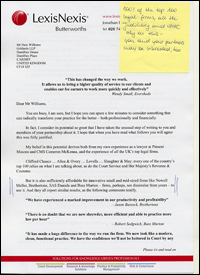 Click see a full size version (opens in a new tab).
The campaign produced
£1.5 million in sales
from 1,800 mid-sized law firms.
As you can see the first letter had a Post-it note on it, and there was a follow up letter too.
We created the entire campaign - letters, emails, website copy and telephone script.
The two letters alone produced one order for
£100,000
and another for
£50,000
.
As you see, we don't just help big names, but small ones you never heard of.
Not just for big campaigns, but one-off projects.
Here are some comments about our results:
"There are three reasons why we started working with them. Commonsense, experience and technique. They're not 23 year olds in baggy pants with baggy brains to match. They know how to put all the bits together to make a successful campaign, and they work hard at making our money work."



- Oliver Johnson, General Manager, Mercedes-Benz (UK) Ltd


"Extraordinarily good at understanding products, identifying what motivates prospects and, above all, getting more of them to reply and to buy. All I can say is Thank God for Drayton Bird."



- Alex Davies, Marketing Director, Hargreaves Lansdown (UK's largest investment advisors)


"Guys......I'M ECSTATIC! 42% open rate and climbing My sales team literally can't call them quick enough from landing page and replies."



- Nick Boddington, Managing Director, mib Data Solutions Ltd


"Drayton Bird Associates helped us achieve a fantastic 12.5% response rate on our Crisis Fund appeal. They worked with us to put this together on extremely short notice, which makes the results all the more impressive. If you're looking to improve your results, I'd recommend you get in touch with them."



- Guy Smith, Direct Marketing Manager, Fauna & Flora International


"Drayton's a genius you know. Seriously."



- Ken McCarthy, founder, The Internet Gazette, and organiser of the first ever conference on web marketing, in 1994


"The response was 5 times higher than the TV ads, with 60% less cost, but the most interesting part was that the visitors to our website were DOUBLE and we had phone calls to our office. This never happened before."



- Jaime Montesinos, Principal, IPM Business School, Lima, Peru


"We needed a direct marketing agency that was capable of directing and strengthening the strategic and creative work of local agencies around the globe. In my experience, few other agencies know as much about direct marketing."



- Alida Catcheside International Direct Marketing Manager, Novartis


"Drayton Bird were extremely reliable to work with, always delivering work on time and within budget, usually hitting the mark within the first round of concepts presented. Their experience in direct marketing particularly shone through with impactful copy that got our customers to take action. I'd highly recommend them for any of your direct marketing needs."



- Donna Ede, Marketing Manager, GLL
And that's just a partial list. There are very few categories we have not worked in.
If you've read this far, I know you're interested.
So drop me a line now, while this is in your mind.
Otherwise please keep reading to learn about some of the people you'll be working with ...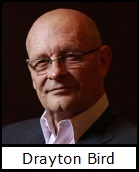 Drayton Bird: Founder
"Drayton Bird is a wise and wily direct marketer. People all over the world have been lucky enough to learn from him."



- Sir Martin Sorrell, founder of WPP
For 59 years, Drayton's successfully helped sell everything from Airbus planes to Peppa Pig.
Not forgetting insurance, hotels in Paris, machinery for filling pork pies, online legal services and goodness knows what else.
And worked in 55 countries with many of the world's leading brands.
People like American Express, Audi, Bentley, British Airways, Cisco, Columbia Business School, Deutsche Post, Ford, IBM, McKinsey, Mercedes, Microsoft, Nestlé, Philips, Procter & Gamble, The Royal Mail, Toyota, Unilever, Visa and Volkswagen.
"Drayton Bird knows more about direct marketing than anyone in the world."



- David Ogilvy, founder of Ogilvy & Mather
He's worked with four of the world's top five ad agencies.
His book -
Commonsense Direct and Digital Marketing
- out in 17 languages, has been the UK's best seller on the subject every year since 1982.
In 2003 The Chartered Institute of Marketing named Drayton
one of 50 living individuals who have shaped today's marketing
.
The leading UK magazine 'Campaign' called him
'the only universally acknowledged point of creativity in the direct marketing world'
.
Drayton was a main board member of the
Ogilvy Group
and a founding member of the
Superbrands Organisation
...
... one of the first eight Honorary Fellows of the Institute of Direct Marketing ...
...one of the first three people named to the
Direct Marketing Association of India's
Hall of Fame.
He's also been given
Lifetime Achievement Awards
by the
Caples Organisation
in New York and
Early To Rise
in Florida.
Gerald Woodgate: Partner
"Gerald was a pleasure to work with, very responsive to our needs, and always going above and beyond."



- Donna Ede, Marketing Manager, GLL, London, England
Gerald has spent the last 8 years working with Drayton. And runs the agency side of the business.
He also writes copy for many of our clients. This includes sales pages, landing pages, direct mail, emails and advertisements.
His successes include increasing one client's revenue per sale by 551%.
And he manages AdWords accounts - very effectively - for several clients. Getting results like these:
Cost per lead reduced by 51.85%
Cost per sale slashed from £366 to £138
"I had thought to myself, 'what can Gerald possibly do with a boring list of industry categories?' Now I know. You're so damn good it's almost irritating."



- Trevor Ainsworth, Director, Pact IT, Adelaide, Australia
Before working with Drayton, Gerald spent five years as Marketing Manager for a computer software company.
Here his biggest achievement was launching a new product ... continuing to promote it with both digital and print media ...
... and helping make it the clear market leader - with a £3,000,000+ turnover - within three years.
His work also included collaborative marketing with companies such as Mercedes-Benz, Renault and Isuzu.
"If you want the best in marketing and support, go with Gerald. He knows his stuff. So you can bet I will continue to use his services for any future projects. And might I suggest that you do too."



- John Daniel Roberts, Founder, LiveLearnAndProsper.com
Read enough and want to get in touch right now? Just fill in this short form:
Darren Bennett: Art Director
"Having worked with Darren for over 3 years I can confirm that he is an absolute joy to work with - Darren's quality of work, excellent attention to detail, patience, creative input and conscientiousness mean that every project runs smoothly, on time and on budget."



- Rachel Archer, New Product Development & Marketing Manager, Off-Piste Wines
Darren has worked in design since the early 1990s.
Over the last 26 years he's been a designer, art-director, illustrator and art editor for publishing houses - including Penguin, Random House and Marshall Cavendish.
He's also worked in design agencies ... as a freelancer for national corporations ..
... and with Drayton for almost four years.
Darren works his magic on a wide range of jobs. For example: advertisements, direct mail, corporate newsletters, brand identity, marketing literature, book cover design and illustration.
Clients who have benefited from his expertise include The Economist, Christies, Off-Piste Wines, Dstl, King's College Hospital, The RAF Museum and many smaller companies.
Darren's easy going and laid-back, but has a fierce eye for detail.
Michael Carpenter: Financial Director and Internal Account Handler
Michael has been involved in advertising and marketing in one form or other since the dawn of time. But he has also run his own businesses.
He initially held various roles within advertising agencies and mail order companies including Print & Production Manager, Account Executive and Account Director.
He ran his own business selling property in Portugal.
Michael became the Financial Director of Trenear Harvey, Bird and Watson Ltd. (THBW) in 1979. He continued as Financial Director of the combined companies when THBW was sold to Ogilvy and Mather Direct.
Michael has worked with Drayton many times throughout his career. And became Drayton Bird Associates' Financial Director in the early 1990s.
As well as holding the purse strings he acts as Internal Account Handler for our retainer clients.
Kelly Davies: Wrangler
Kelly has worked with Drayton for seven and a half years.
She's superb at organising anything. For example:
Seminars
Conferences
Events
The toughest challenge of all - Drayton's diary
... and she keeps us all in check.
For our clients, Kelly ensures all the pieces of the creative jigsaw come together on time and on budget.
Get in touch right now, just fill in this short form: